During the first visit, we make sure to obtain important background information, like your medical history, and give you time to get to know your doctor.
PLEASE CONFIRM WITH YOUR INSURANCE COMPANY THAT WE ARE PARTICIPATING PROVIDERS.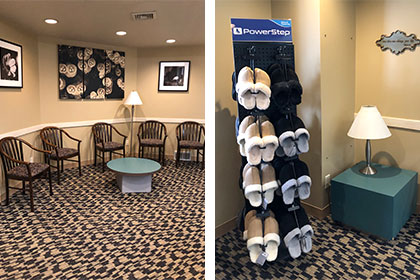 All New Patient Paperwork must be completed on the form link below before an appointment will be scheduled. All fields with an asterisk (*) must be completed before submitting.
Please allow 3 business days for our New Patient Coordinator to contact you.
On your first visit to the office, please bring your insurance cards and photo ID.
Please bring the following:
Patient's insurance card
List of current prescriptions and/or over-the-counter medication, including dose and frequency
List of Current Allergies
Information about patient's medical and surgical history
Recent test results, x-rays, or relevant records


Insurance and Payment Information
You are responsible for co-payments or charges that are not covered by your insurance. If you have questions regarding, plans we accept, insurance coverage or benefits, please contact your employer or insurance company.
Mission Statement
Concerned about you, as we care for your feet.
What to expect
Being well-prepared for your appointment will ensure that the doctor has all of the needed information to provide the best possible care for you. It also will help relieve any unnecessary anxiety you may be feeling. Educate yourself on your symptoms by reviewing the content on this Web site. Also, take some time to review our staff page and familiarize yourself with the doctors. We look forward to your first visit.