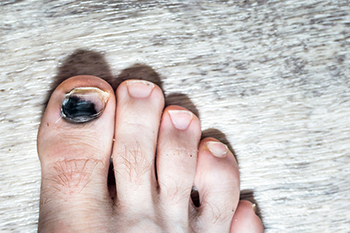 For runners, black toenails and toenail loss can be distressing issues that affect comfort and performance. Fortunately, there are proactive steps you can take to maintain strong and healthy toenails while pursuing your passion for running. It all starts with choosing the right footwear. Opt for running shoes that provide ample toe room, ensuring your toenails aren't cramped or subjected to undue pressure. Moisture management plays an important role; keeping your feet dry and utilizing moisture-wicking socks can prevent nail softening and potential damage. Be diligent about lacing your shoes securely to prevent your feet from shifting forward and affecting the front of the shoe. Additionally, consider a gradual approach to increasing training intensity to minimize the repetitive stress on your toenails. By following these proactive measures, you can safeguard your toenails from becoming bruised or falling off. If you have problems with your toenails as a result of running, it is suggested that you make an appointment with a podiatrist for expert guidance and care. 
All runners should take extra precaution when trying to avoid injury. If you have any concerns about your feet, contact one of our podiatrists of Associates in Podiatry. Our doctors will treat your foot and ankle needs.
How to Prevent Running Injuries
There are a lot of mistakes a runner can make prior to a workout that can induce injury. A lot of athletes tend to overstretch before running, instead of saving those workouts for a post-run routine. Deep lunges and hand-to-toe hamstring pulls should be performed after a workout instead of during a warmup. Another common mistake is jumping into an intense routine before your body is physically prepared for it. You should try to ease your way into long-distance running instead of forcing yourself to rush into it.
More Tips for Preventing Injury
Incorporate Strength Training into Workouts - This will help improve the body's overall athleticism
Improve and Maintain Your Flexibility – Stretching everyday will help improve overall performance
"Warm Up" Before Running and "Cool Down" Afterward – A warm up of 5-10 minutes helps get rid of lactic acid in the muscles and prevents delayed muscle soreness
Cross-Training is Crucial
Wear Proper Running Shoes
Have a Formal Gait Analysis – Poor biomechanics can easily cause injury
If you have any questions, please feel free to contact our offices located in Pittsburgh-South Hills, Pittsburgh-Bellevue, and Pittsburgh-Downtown, PA . We offer the newest diagnostic and treatment technologies for all your foot care needs.
Read more about Preventing Running Injuries